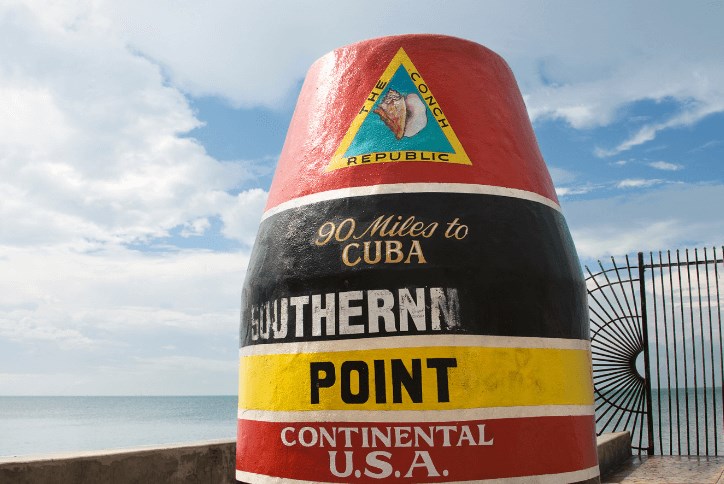 Our Florida Bucket List: 10 Can't Miss Things to Do in Florida
Known as a vacationer's paradise, there is no shortage of things to do and explore in Florida - from wildlife to wild rides. Here, we've rounded up 10 experiences you won't want to miss!
Swim With Manatees
Less than two hours from FishHawk Ranch, Crystal River calls itself the "Manatee Capital of the World" - where you can swim with over 1,000 of the gentle giants. Not in the mood to travel? Visit the Manatee Viewing Center, in nearby Apollo Beach. You can see the manatees November through April as they enjoy the warm water generated by TECO's Big Bend Power Station.
Visit the Southernmost Point of the United States
Best for a week or a long weekend, Key West is about six and a half hours away. Key West, Florida is known for its laid back vibes, great beaches, and of course, being the southernmost city in the United States! Visit Key West and see the iconic Southernmost Point - just 90 miles from Cuba!
Live the Magic
Florida is known as the theme park capital of the United States, and although each theme park throughout the state provides thrills, there are two experiences you should add to your Florida Bucket List: Cinderella's Castle at Walt Disney World and the Wizarding World of Harry Potter at Universal Studios.
See the Oldest City
St. Augustine, Florida was founded in 1565 by Spanish explorers, and you can still see their impact at the 340-year-old Castillo de San Marcos. St. Augustine is also home to the "Oldest Wooden Schoolhouse" in the United States. This coastal city is located about three hours away.
Get Some Space
Kennedy Space Center Visitor Complex is organized into Mission Zones where attractions and tours are grouped by chronological era. From the dawn of space exploration to current and ongoing missions, you can get an up-close, hands-on feel for the story of humans in space.
Be a Pirate for a Day
Happening right here in Tampa Bay, Gasparilla is an annual event that is usually held in late winter. Get your beads ready and dust off your boots for a weekend of pirate-themed festivities! Learn more here.
Test Your Perception at the Dali
Located in downtown St. Petersburg, the Dali Museum celebrates the life and work of renowned surrealist artist Salvador Dali and houses the largest collection of Dali's works outside of Europe. The Dali Museum's permanent collection features 96 oil paintings, many original drawings, book illustrations, prints, sculpture, photos, manuscripts and an extensive archive of documents.
Tour the Everglades
The Everglades is an expansive area of land in south Florida, which consists of 1.5 million acres of wetland. With all that area, there are a wide variety of things to do! You can kayak, or take an airboat. You can see turtles, herons, alligators, dolphins, manatees, and more!
See the #1 Beach in the US
Siesta Key Beach is no stranger to accolades. This white-sand beach has been on numerous Best Beaches lists, and was even named the #1 Beach in the US by TripAdvisor. This popular beach is located about an hour from FishHawk Ranch.
Kayak Through the Mangroves
For the outdoor enthusiast, kayaking through mangrove tunnels is an extraordinary adventure where you can see wildlife above and below the water. You can explore the mangrove tunnels as far as Key West, or as near as Weedon Island Preserve or Lido Key, both of which are about an hour from FishHawk Ranch.
That concludes our list of amazing, not-to-be-missed adventures throughout Florida! Will you try one, a few, or all ten? Did we miss anything? Let us know in the comments!